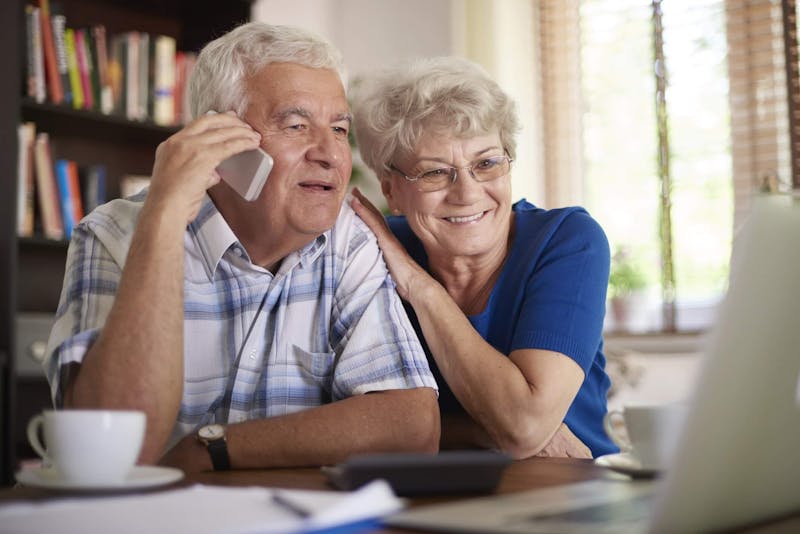 By SiteStaff Team on Oct 31, 2019 9:00:00 AM
Marketing in senior living is tough. Let's be real; you're trying to sell something that no one truly wants. According to AARP, nearly 90 percent of Americans prefer to age at home for as long as possible. But, as we know, there are many reasons that's not ideal while there are so many benefits to senior living. But, that change in mindset is a complex and emotional journey for your prospects. So how do you help them relate to those benefits and then want to enjoy them in your community? Empathetic marketing of course! Empathy is the key to great marketing, but it's not as easy as you may think. Here's how to do it right.
Empathetic Marketing Defined
In short, Merriam-Webster defines empathy as the action of understanding and vicariously experiencing the feelings, thoughts, and experiences of another. Essentially putting yourself in the shoes of your prospect. Thus, empathetic marketing channels that connect with your prospects in a meaningful and impactful way.
Empathetic Marketing Fails
Unfortunately, we don't have to look far to see marketing in our industry that's intended to be empathetic but feels hollow instead. We certainly know the challenges and fears of our prospects, but do we feel them? Do we truly put ourselves in their shoes? Not so much.
Common fails include:
The Old Standby - More often, we fall back on old standbys of experience and credibility, and tout endless community features hoping something sticks or at least is better than our competitors. Standard marketing collateral often reads, "We have [enter number of years] experience in senior living with [enter number] of communities and offer [feature 1], [feature 2], [feature 3], etc."
Half-Hearted Empathy - Even upon realizing our past marketing has been more about us than our prospects; the fix may only be half-hearted; consisting primarily of using more 'you' versus 'we' in our content. It's okay, you don't have to admit it!
Hail Mary Approach - Worse, resorting to preaching about what could happen without the security of senior living because 'we know best' as the experts here. This may be an easy approach that speaks directly to our prospects, but fear isn't the connection we want at all.
How To Do Empathetic Marketing
Let's go back to putting yourself in your prospects' shoes. This goes beyond the market research that helps you identify their challenges and aspirations; it's about 'vicariously experiencing' them as the definition above suggests.
Great examples outside of senior living include:
Dove Real Beauty Sketches Campaign – The brand understands women are often self-conscious about their looks but utilizes a sketch artist's renderings to show women their true beauty. This promotes a positive self-image.
JetBlue Flight Etiquette Campaign – Shows empathy in that the company knows flying can be a headache, but encourages flight etiquette with a series of "How not to" videos on common issues like people getting too comfortable, overzealous flight boarding and oversharing seatmates.
Extra Gum Give Extra, Get Extra Campaign – One example of how the brand relates by showing gum as an everyday part of life, which makes it a part of all of life's little moments. The brand then shows how benefits such as making your breath fresh can create more closeness and confidence.
Empathy In Action in Senior Living
Empathetic marketing can be done in the same way for senior living through listening, showing you understand, and proposing solutions. One marketing channel in which to do this is by offering live chat on your website. It's an ideal way to engage with your prospect at the moment they are searching for how senior living can help them or their loved one.
Here's an example from an actual SiteStaff senior living chat:
10:47:35 Visitor: She is living on 5 acres out in the country. Her husband of 16 years- my step father- died about 3 weeks ago and was her primary care taker. He had Parkinsons.
10:47:55 Visitor: I acutally live in Colorado springs, Colorado and am only here due to work from home orders.
10:48:12 Ashley: Truly, I'm so sorry to hear about your family's loss. I can't imagine what your mother is going through.
10:48:48 Ashley: Do you have any questions about our community?
10:49:06 Visitor: She requires 24 hour supervision. She can feed herself, move about OK- with a shuffle and dress . She cannot cook, needs full assist with bathing, and other ADLs
10:49:41 Ashley: All of that information is helpful to know. If it's any reassurance to you, she'll get the care that she needs and deserves here.
10:49:43 Visitor: I believe my sister and I toured it around Christmas time and we were hoping to have transfered both of them but dad was resistent to leaving the home
10:50:08 Visitor: So HIghland Glen has a memory care unit and is bewteen cedar hills and highland?
10:50:23 Ashley: It's great to hear that you've been by for a tour. We realize that these situations aren't always the easiest.
By creating this human connection, your prospects feel more comfortable and confident in taking that next step to schedule a community tour and ultimately boost your occupancy.
See the results of our live chat service for a brand like yours. Download this SiteStaff case study today!