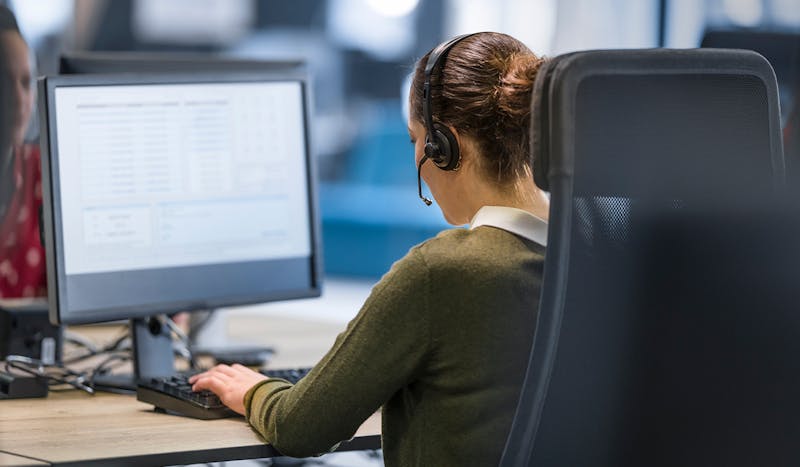 By SiteStaff Team on Jan 21, 2021 1:56:29 PM
Keeping a professional firm or practice running smoothly and profitability requires multiple levels of operation. One of the most essential levels is what is known as "back-office services." These services are the opposite of front-office services, which are the client- or patient-facing functions provided all day, every day by in-house staff.
Although many larger firms and practices provide both front- and back-office services in house using separate departments, others prefer to outsource some or all back-office services, especially when a high level of expertise is required and cost is a consideration. Here's a look at common back-office support services and what to consider when deciding whether to outsource or not.
Information technology services
There's no way to run a modern firm or practice without computers and many professionals learn early on that they are simply not equipped to handle all the intricacies of IT on their own. For some, that means hiring an IT guru who can be available in house during office hours to troubleshoot and make quick fixes when problems occur. This person must also be aware of and able to conduct necessary software and hardware updates after hours, so as not to disrupt business as usual.
The alternative is to outsource IT services to a company that specializes in IT, preferably in your industry. This provider should have a range of experts available to help keep systems running and address problems quickly and effectively, while also troubleshooting future needs. The trick is in finding the right person or provider that can actually commit to and follow through with the services required. Both have their pros and cons as detailed in the Analytics Insight article, "The Advantages and Disadvantages of Outsourcing IT."
Accounting and other financial services
Perhaps the most-often outsourced service is accounting, particularly in businesses with complex accounting needs. Because accounting can encompass everything from taxes, to payroll, to purchasing, it can quickly overwhelm a professional who is untrained and trying to go it alone. In addition, many firms and practices prefer to depend upon the expertise of Certified Public Accountants simply because doing so provides a higher level of safety against fraud and other unlawful activities.
Again, the choice is to hire qualified staff members or to outsource to a reputable firm. While cost may often dictate which choice is best for each firm or practice, there are other aspects to consider as well. The SMB Compass article, "The Pros and Cons of Outsourced Accounting Services," looks at many of the most important reasons to outsource or not.
Live chat services
Live chat comes in a variety of "packages" from the plug-and-play, you're-on-your-own type where chatting is provided by one or more staff members, to chat bots, to finely tuned live chat services featuring real humans in real time.
For small business owners with the time and ability to keep up with live chat while still conducting business, plug-and-play may fill the bill just fine. Then again, there are chatbots available for conducting simple chats, for example in retail businesses.
For businesses like professional firms and practices that require the gold standard in live chat services, outsourcing is likely the best option. Live chat that offers 24/7, 365 availability with U.S.-based, college-educated, highly trained and empathetic chat hosts who are compliant with the Health Insurance Portability and Accountability Act of 1996, is not only possible it's essential when personal health information is being shared. A third option is a hybrid where office staff manage the chat service during office hours and outsource the remaining hours to a chat service.
In the end, it's all about how much extra work a firm or practice is able to take on, what level of ROI can be expected, and what proven results are available for each option. Before deciding, our blog, "Is Your Live Chat Meeting Expectations? 5 Key Indicators," looks at what you should expect from live chat services, whether in house or outsourced.
Marketing services
In the pre-internet days, marketing used to mean cold calling, newspaper and periodical advertisements, occasional mass mailings, and other simple tactics to attract new clients and patients. In 2021, it's more complicated ... a lot more! Today's marketing involves multiple levels from simple print, to sophisticated websites, to social media, to proactive communication tools like live chat. For busy firms and practices, just keeping up with Google's changes can be an overwhelming task.
For some, an in-house marketing team makes sense if it can be accomplished cost effectively and gains measurable results. For others, marketing is worlds away from their area of expertise so outsourcing marketing can be a great way to free up time while building a brand and gaining leads and conversions. The trick is to work with a marketing agency that is loyal and committed, and able to provide all the marketing services your firm or practice needs, without piling on services you don't need.
One of the most important marketing considerations is data mining and analytics, which have become essential to successful marketing in these highly data-driven times. Digital marketing has arguably become the bulk of every overall marketing plan and should take center stage when making the decision to outsource or not. Find out how to get the most from digital marketing in the Entrepreneur article, "10 Benefits of Outsourcing Your Digital Marketing."
SiteStaff offers the highest level of live chat services available to professional service firms including the law, finance, senior living, and cosmetic and elective surgery. Our track record is outstanding and we are always happy to help our clients meet and exceed their own goals. Contact us today to learn more about what SiteStaff can do for you.