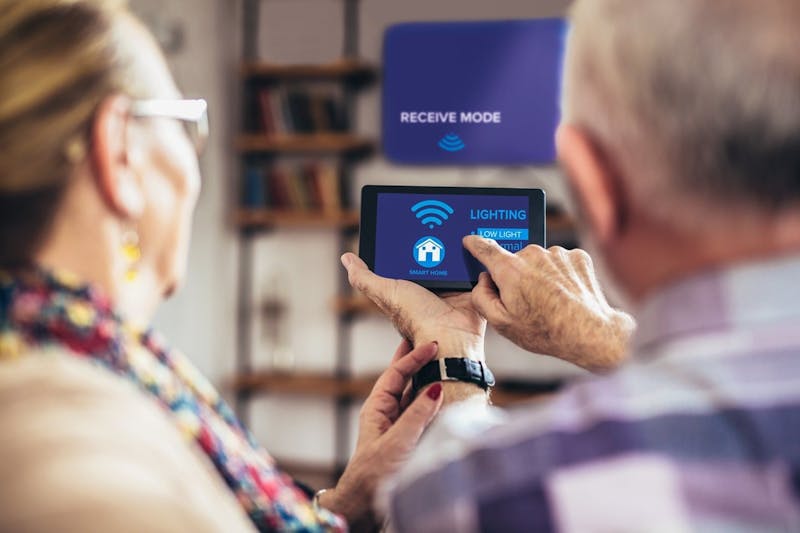 By SiteStaff Team on Oct 30, 2019 12:00:25 PM
It goes without saying that advances in technology have changed the world in ways most of us could never have imagined. Technology touches every aspect of our lives and thus affects every single industry that offers us products and services, including senior living. Which brings us to what every senior living professional is asking: Is technology a threat to us? Is it a savior? Could it be both? Let's find out.
Reality Check on the Impact of Tech
It's understandable for any professional to be wary of how technology could impact their industry. Just ask the makers of typewriters and landline telephones or those in the newspaper and print media industries or the post office. But at the same time, others have adapted and thrived such as:
Philips Lighting – When LED technology came about, this light bulb manufacturer transformed its business approach and now uses wireless technology to customize lighting systems that are connected, programmable, and adaptable to specific preferences.
Amazon – Remember when Amazon was simply an online bookseller? Neither do we. They've taken advantage of technologies in logistics, streaming, and cloud services to expand and diversify. Now it's hard to imagine anything the company doesn't sell.
What's Good for Seniors May Not be Good for Senior Living
Those of us in senior living has the goal to help seniors live their best lives – by giving them peace of mind in their care and safety, as well as more time and freedom to enjoy themselves. But, most seniors still want to age at home, and now technology is helping them to do that for even longer. Add to that, and seniors are more tech-savvy than ever. In fact, 73 percent of people over 65 use the Internet, and 53 percent have a smartphone, according to the Pew Research Center.
Benefits of technology for seniors:
Convenience and connection – Technology helps seniors stay connected to friends and family as well as check email, news, traffic, and weather or play games, share photos and download books. The list goes on and on and on.
Health – Wearable technology helps seniors track activity, sleep, food, weight, and more. Some devices even provide fall detection that alerts first responders and family if the wearer becomes immobile.
Home – Seniors are covered here too with robotic vacuums and voice-activated assistants that help you make grocery lists, set reminders and play music as well as turn on lights, appliances, and TVs in some cases. You can also shop for those groceries online and have them delivered.
Safety – There are apps that can help seniors keep track of medications with reminders of time, dosage, and refills as well as drug interaction warnings, while personal emergency response systems (PERS) allow them to notify first responders and family in emergencies with the push of a button.
Transportation – Cars are equipped with GPS technology for directions, and for seniors who no longer drive, rideshare services like Lyft and Uber can get them wherever they need to go.
What does this mean for senior living?
Seniors are using all this technology to stay independent longer, which on the surface may seem to circumvent the need for senior living, at least for some of the less intensive levels of care. However, if senior living brands adapt and incorporate technology into the daily lifestyle of their communities, it could very well be an advantage.
How Tech Can Help Senior Living
There's no point fighting it, technology is here and will continue to evolve. Why not use it to improve the quality of life for your residents and improve the efficiency of your operations?
Here's how:
Quality of life – Incorporate some of the technology above into your units and/or as part of your amenities. It can add peace of mind and exemplifies how you help residents maintain their independence. Plus, it adds to the convenience factor as, let's face it, setting up and managing all these apps and devices on your own is practically a full-time job.
Efficiency of operations – From creating more personalized care options to saving time and interruption with passive monitoring to analytics that helps you better measure quality and families better understand the care received, technology can be a tremendous help at the community level.
But even before the resident gets to the community, when they or their family member is a prospect, technology can help boost occupancy with a service such as live chat on your website. It's an ideal way to engage with prospects at the moment they are learning about the benefits of senior living.
Here's an example from an actual SiteStaff senior living chat:
22:30:26: Visitor: Does the building have 1st floor apartments? Roll in showers and wood floors?
22:30:37: Sabrina: Hi there!
22:30:43: Sabrina: We are glad you reached out to us today to learn more! Which location are you considering?
22:31:22: Visitor: Dunwoody . Do you have other locations in the atlanta area?
22:32:27: Sabrina: Sandy Springs, Dallas, Evans, and Dunwoody are our Georgia communities.
22:33:17: Sabrina: Is Dunwoody the location most convenient for you?
22:34:17: Visitor: Dunwoody is my preference, i am interested in a 2 bed room. I am in the process of selling my home in Kennesaw so if I have to be on a wait list that could work.

22:34:58: Sabrina: Thank you for sharing those details with me! What an exciting time for you! With whom do I have the pleasure of chatting?
Using technology in this way can help your prospects to feel more comfortable and confident in taking that next step.
See how SiteStaff's live chat service has helped senior living brands like yours grow.