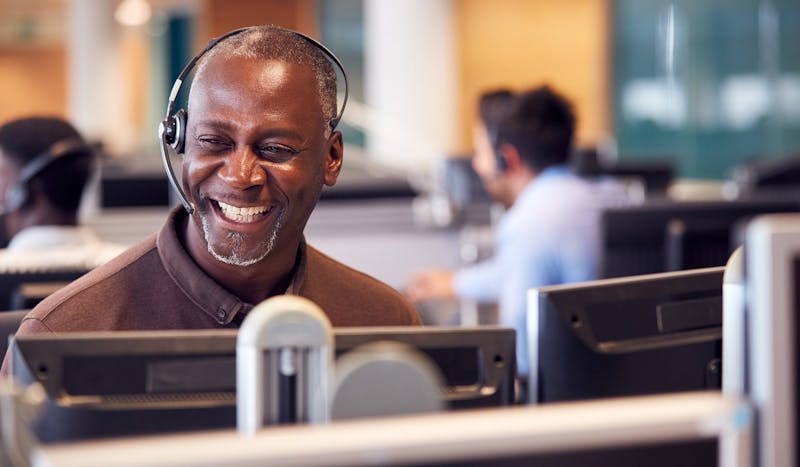 By SiteStaff Team on May 11, 2021 10:43:28 AM
Live chat has helped many businesses retain and gain patients during the past year, but does it matter whether the live chat hosts are chat bots or humans? That depends on what a business needs to accomplish. When it comes to live chat for plastic surgeons, there are a number of specifically human factors that are not only great to have, but essential. Take a look at the top reasons for choosing live chat hosts for plastic surgery practices.
Industry training
Live chat bots are great at answering basic questions for which they have been programmed, but they aren't quite up to R2D2 status just yet. For retail businesses chat bots are a great solution because they can answer routine questions quickly and move on to the next visitor. But plastic surgery has a higher bar to reach when it comes to knowledge. Chat hosts who are industry trained and able to not only answer FAQs, but more complex questions as well, are key to success. Moreover, this knowledge allows chat hosts to find solutions and move the visitor along the buyer's journey to becoming leads and ultimately patients. Find out more about how live chat works in our blog, "How to Generate Plastic Surgery Leads."
Personal and empathetic
In addition to industry training in the specific specializations of a plastic surgery practice, training in how to be empathetic really separates great live chat from average chat bot chats. Visitors who are embarking on what may well be a life-changing plastic surgery experience may be emotional or even distraught as they search for the perfect surgeon to help them with their needs. Only a human live chat host can provide the personal and empathetic responses that show prospective patients they have come to the right place. This real-time connection engages visitors and helps them get the information they need and even schedule a consultation or speak with office staff. At SiteStaff, empathy is a cornerstone of our service, and we will settle for nothing less. Learn more in our blog, "Live Chat Support: How we train our live chat support agents for empathy."
Culture and compliance
Businesses, firms and medical practices have a culture that is uniquely theirs. But when it comes to outsourcing live chat services that culture can be lost. With human live chat hosts, however, we have found it easy to keep culture intact by immersing our chat hosts in the practice, it's mission and its philosophy. As we see it, the goal of live chat is to provide a seamless extension of a plastic surgery practice that supports and augments the services of the surgeon and staff.
A very important part of that culture is protection of patient privacy, particularly in reference to compliance with HIPAA regulations. Office staff are keenly aware of HIPPA and so too should be the chat hosts or bots used by a practice. Since the importance of HIPAA compliance cannot be stressed enough, it's essential that the chat service used, human or bot, show a commitment that meets or exceeds that of the practice. Our blog, "HIPAA Compliant Live Chat: What to Look for in a Provider," can help make the right choice.
Optimum service
Most people have encountered a chat bot when using live chat and while they may have successfully received the simple answers they needed, they weren't able to engage in an actual complex conversation. So, when the subject matter is something as personal and complicated as plastic surgery, chat bots cannot compete. Since chat bots only know exactly what they are programmed to know but human college-educated chat hosts learn on their own, live humans far exceed bots for breadth and depth of service. For a look at live chat factors to compare, our blog, "Live Chat Options - A Comparison," can help clear up confusion.
Useful transcripts
Human-to-human live chat produces a transcript or record of each conversation that can be invaluable when following up with and eventually meeting prospective patients. Only a human can interpret emotional aspects of a chat in a way that leads to a more comprehensive and open conversation that engages the visitor. Being able to understand emotions like hesitancy, fear or sadness is something a chat bot is not equipped to do, which means a wavering prospect may be lost. With empathetic human hosts however, the conversation can evolve and be recorded for future use by office staff and physicians providing a look into the prospect's mindset and where they are in their buyer's journey. Here's an example of an actual transcript:
07-24-20 14:09:35 Visitor : hi do you have pricing on non surgical rhinoplasty
07-24-20 14:09:42 Curtis : Hi there!
07-24-20 14:10:09 Visitor : hi hope doing well!
07-24-20 14:10:20 Visitor : hope you're**
07-24-20 14:10:21 Curtis : I would be happy to see what information I have for this procedure today. How long have you been considering non-surgical rhinoplasty?
07-24-20 14:10:57 Visitor : thank you ! I have been considering this for years always been insecure since middle school
07-24-20 14:11:25 Curtis : I can understand that completely. I have always had issues with the way my nose is shaped as well! The cost for nose filler / non-surgical rhinoplasty is typically $1,600.
07-24-20 14:11:42 Curtis : May I ask how you heard about Dr. Wxxxx?
07-24-20 14:12:42 Visitor : okay would I have to have a consult first to make sure im a good fit for it ? or could I send in pictures ??
07-24-20 14:13:22 Curtis : Our Patient Care Coordinator, Diane, will reach out to you to discuss the procedure you are interested in, and will then schedule a Virtual Consultation using the modality that you are most comfortable with. Virtual Consultations are conducted individually and privately from the comfort of your own home, preferably via video-call to allow you to demonstrate the areas of concern, and get real-time answers to any of your questions from Dr. Wxxxxx!
07-24-20 14:13:27 Visitor : I have been researching for someone on google non stop and dr w*** seems to have the most gallery which I look for most seeing all the work
07-24-20 14:13:48 Visitor : perfect thank you so so much!
07-24-20 14:13:55 Curtis : Yes, he is a very good choice! I think you have come to the right place!
07-24-20 14:14:17 Curtis : Dr. Wxxxxx is Double Board Certified in Facial Plastic Surgery and Head and Neck surgery which gives him very unique knowledge of the underlying structures of the face and its underlying structures. Dr. Wxxxxx is triple ivy league trained with credentials from Yale, Cornell, and UPenn and shares his expertise as a professor of Facial Plastic and Reconstructive Surgery at NYU School of Medicine. Dr. Wxxxx focuses exclusively on plastic surgery of the face, head, and neck and has performed over 4,000 facial lifting procedures.
07-24-20 14:14:59 Curtis : With all the information I have given you, I know it's a lot, may I get your first and last name and best contact number for Diane?
07-24-20 14:15:50 Visitor : oh wow that makes me feel really comfortable with the decision knowing his background!
07-24-20 14:16:00 Visitor : Maria Rxxxxx xxx-xxx-xxxx (:
07-24-20 14:16:16 Curtis : Yes, he is very qualified, Maria. May I also have your email address as a second form of contact? This is a great way to have information sent to you that you would like to review!
07-24-20 14:16:57 Visitor : [email protected]
07-24-20 14:17:31 Visitor : do you take payment plans at all ?
07-24-20 14:17:35 Curtis : Thank you so much! I am going to send our conversation over to Diane and have her follow up with you so we can start helping you achieve your goals.
07-24-20 14:18:19 Curtis : We do offer Care Credit. Diane can help explain that to you. Also, just FYI, our consultation is complimentary! There will be no charge for this.
07-24-20 14:20:15 Curtis : Is there anything else I can assist you with today, Maria?
07-24-20 14:22:45 Visitor : thats awesome and helps adopt thank you so so much !! nope nothing else thank you for all your help!
07-24-20 14:23:11 Visitor : ohh wait actually how much is it per unit of botox ?
07-24-20 14:23:14 Curtis : You are very welcome. It's been a pleasure assisting you today!
07-24-20 14:23:20 Curtis : Let me grab that for you.
07-24-20 14:23:22 Visitor : and lip fillers sorry HAHHAHAA
07-24-20 14:25:02 Curtis : Botox ranges between $500-$875 depending on how many areas need to be treated
07-24-20 14:25:11 Curtis : Lip injections start at $800.
07-24-20 14:25:57 Visitor : awesome, thank you have a great rest of your day!
07-24-20 14:26:06 Visitor : Visitor has closed the chat window.
For more about the benefits of live chat for plastic surgeons, download out our "Plastic Surgeon Case Study," and contact us to find out what SiteStaff can do for your plastic surgery practice.