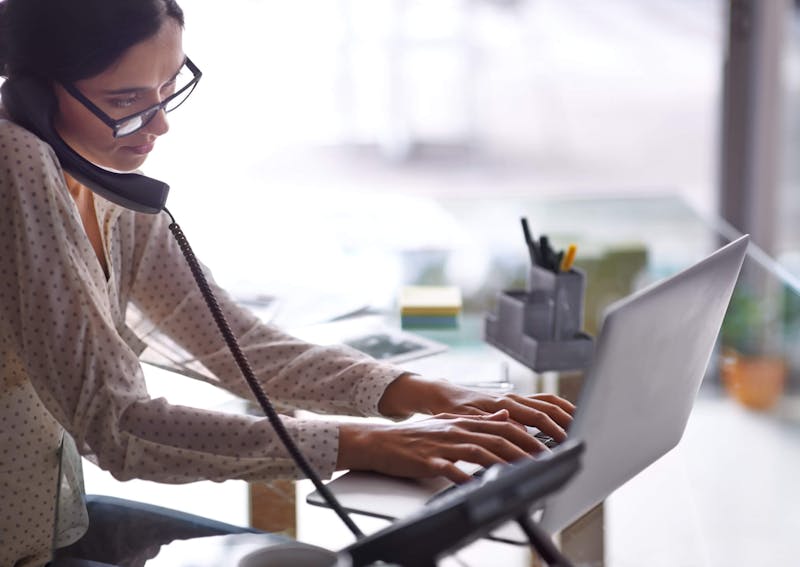 By SiteStaff Team on Nov 3, 2020 2:33:54 PM
Professional services, like all businesses, need to have two balls in the air at all times: successful operation and new business generation. Time was that cold calling was the expected way to begin and build relationships, but times have changed, especially for B2C businesses.
Today's world of integrated online outreach demands an online presence to continually build business. The internet is the primary vehicle for introducing your brand, nurturing prospects and gaining new leads and conversions. For professional service firms, live chat provides a kinder, gentler way to reach out to consumers who, simply by using it, already express an interest. Here's how live chat is making cold calling a thing of the past.
Think of live chat as "warm calling"
Proactive live chat with human chat hosts is initiated by website visitors, not the other way around. As a result, they don't feel intruded upon by some unknown voice on the phone. Instead, they are greeted by a warm and friendly person, as they expected, and one who is able to answer questions, set up appointments, schedule tours, and even transfer them to office staff if necessary.
From the first moments, live chat is already building relationships and setting the visitor at ease. This is especially important to firms such as those in the law, healthcare, finance, and senior living, whose clients and patients may be under duress, stressed out or even afraid. Skilled live chat hosts are trained for such visitors and know that empathy and understanding are key to not only serving the visitor's needs, but showing them that the firm or practice is there to help, not just sell them something. Thus, trust is established and leads are gained. Find out what live chat has to offer in our blog, "The Human Touch: How Empathetic Marketing Helps Plastic Surgeons."
Live chat shares the load
Busy professional services firms that use live chat have much more time for managing the day-to-day operations without losing out on potential leads. No more putting people on hold, no more hang-ups, and no more lost leads. Live chat hosts who are trained in both the industry and each firm or practice's culture are part of the team. They become an extension of your brand, one that is extremely adept at helping visitors, building rapport, and vetting potential new clients and patients. That leaves staff to attend to their professional tasks knowing that no online visitor is left unsatisfied, or worst yet, lost altogether.
Live chat can be HIPAA compliant
Compliance with the Health Insurance Portability and Accountability Act of 1996 is often a requirement for professional service firms and practices and one that may keep them from using live chat. At SiteStaff, we understand the importance of HIPAA compliance on every level and go the extra mile to protect our clients and all protected health information. We know the rules and we strictly adhere to them to ensure our staff, hosts and operations are in compliance at all times. But this is not true of all live chat service providers and there is a lot to understand before starting with a live chat service. Our blog, "HIPAA Compliant Live Chat: What to Look for in a Provider" explains what you should expect in a live chat service provider that is as committed to compliance as you are.
Live chat provides a record
Each and every time a live chat takes place, a verbatim transcript is generated that not only provides basic visitor information, but sets the stage for developing a long-term relationship. When a chat warrants further follow up, the transcript can be used by staff to reach out to the visitor, determine needs and set up appointments, tours or other next steps. This creates a seamless and effective process for gaining new leads and converting them into clients or patients. Moreover, the transcript saves time by introducing follow-up staff to the visitor before they contact them, helping to put the visitor at ease and giving staff all the information needed to get right to the issue at hand with knowledge and understanding. Find out more in our blog, "Best Practices for Live Chat Leads."
Live chat is popular
Cold calling still does work well enough for B2B companies with sales staff on both ends to make and receive the calls. But for reaching individual consumers in the B2C professional services industries, live chat is fast becoming the communication mode of preference because it's fast, efficient, mobile, and flexible for both customer service and marketing.
According to ZOHO, "Live chat can help with both marketing and customer service. In fact, 31 percent of B2C companies use live chat for marketing, and 67 percent use live chat for customer service." Live chat also helps build relationships and according to research firm Forrester, "Providing live chat tells visitors their time is valuable; something 73 percent of people equate with excellent customer service." Learn more about the popularity of live chat and see more supporting statistics in our blog, "Top 21 Reasons Your Plastic Surgery Website Needs Live Chat."
For busy professional service firms, senior living communities and medical practices, live chat can make a big difference in business growth and satisfied clients and patients. At SiteStaff we think our live chat is so good, we are willing to guarantee a positive return on investment. If live chat is in your future, contact us for more about our services.