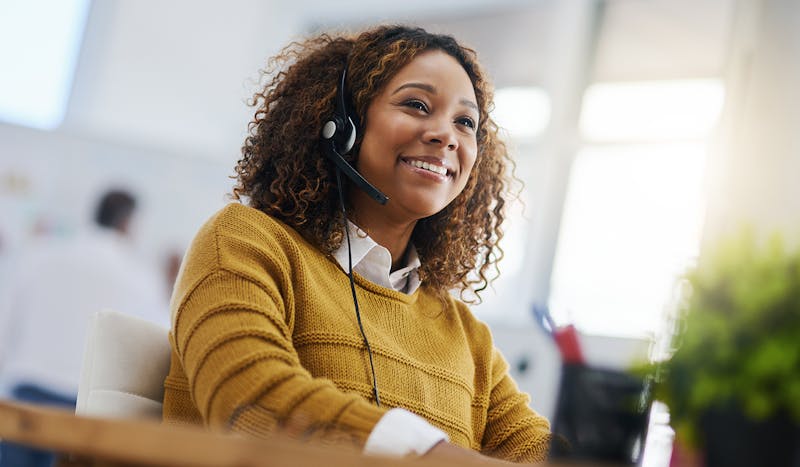 By SiteStaff Team on Feb 1, 2021 9:39:41 AM
Adding live chat to a website may seem like a technical quagmire, but it's really as simple as adding a line of code to the website; Then, poof! You have live chat support on your website! Whether it will work to achieve goals, however, remains the question.
For many businesses, live chat involves just the code, a few staffers to host the live chat, and a modicum of knowledge about the business so questions can be answered quickly and correctly. For others, live chat is much more than a technical add-on. It's an essential and integral part of the business that must embrace and uphold the same ideals, goals and culture as in-house operations.
This is especially true for professional service firms and practices. Since professionals in the law, finance, elective surgery, and senior living have unique needs and cultures, it's essential to make sure a live chat provider can seamlessly meet expectations and become an extension of the practice or firm.
At SiteStaff, our experience has enabled us to design a very detailed process for onboarding new clients to ensure they receive the highest level of service, as well as exceptional return on investment. Here's a look at how we do it at SiteStaff.
Build understanding
Live chat is an incredibly effective tool for serving clients and customers, but it is not a magic wand. Alone, it is simply a communication device. When working as part of a larger, integrated system, live chat becomes a relationship builder, an analytic database, a conversion driver, and a proactive way to reach potential new clients and patients.
Thus, our process begins with understanding not only what the potential client wants to achieve, but if it is even possible with live chat. Using analytics, we look at essential components like website traffic, how long each visit lasts and the level of click fraud in pay-per-click advertising, if any. Our goal is to establish a baseline for not only the present website status, but whether live chat can deliver on the potential client's goals and expectations.
Build a relationship
Once we determine a website is a likely candidate for live chat, we continue our proprietary process by examining the potential client's business culture and any systems already in place to help the firm or practice succeed.
For example, while live chat can deliver potential new clients and patients to office staff, it is incumbent upon staff to follow up and build on the relationship started on the live chat. Without a well-tuned contact follow-up process, live chat alone cannot succeed. Learn more in our blog, "Best Practices for Live Chat Leads."
We also develop a questionnaire that is used by our staff experts to design a comprehensive knowledge base that is unique to each firm or practice. This knowledge base will be used in the intensive training of life chat hosts and to provide all staff with a deeper understanding of the client and how they operate. Then we record an actual chat session with live chat hosts that allows us to both further train our chat hosts and instruct clients about the realities of live chat and how it works.
Immersive training
Since no two firms or practices are alike, we take great care to provide in-depth training for our live chat hosts using the knowledge base as well as the client's cultural information. Our U.S.-based, college-educated chat hosts are particularly adept at learning not only the technical aspects, but are also experts at embracing the culture of each firm or practice. Many have been with SiteStaff for a decade or longer, and every SiteStaff host takes pride in their ability to always be professional, knowledgeable and empathetic.
It is also important to note that SiteStaff live chat is compliant with the Health Insurance Portability and Accountability Act of 1996. All staff and chat hosts who manage personal health information are trained in the regulation and how to maintain the strictest requirements. Find out how HIPAA compliance and live chat can go hand-in-hand in our blog, "Is Live Chat HIPAA Compliant?"
Live Chat System integration
Only after we are convinced live chat is a viable solution for the client, we integrate with the client's customer relationship management system. This is a bilateral integration that enables our staff to constantly survey key performance indicators, while showing the client how well their systems are working and what changes should be made to further their success.
Fine tuning
As with any new system, live chat requires ongoing attention to fine tune it to meet goals and minimize unnecessary costs. For example, perhaps early analytics showed limited hours were enough to handle website traffic, but after live chat goes online, website traffic increases. SiteStaff can then reexamine and monitor traffic flow, and other indicators to determine the best hours to add to maximize the live chat without wasting the client's money.
SiteStaff, unlike many live chat service providers, is not driven by revenue, but by empathy and culture. We know from experience that our success is only possible when our clients succeed. We also know our services are not for every firm or practice, but we welcome the opportunity to share our knowledge and expertise. Find out more about SiteStaff by contacting us today.