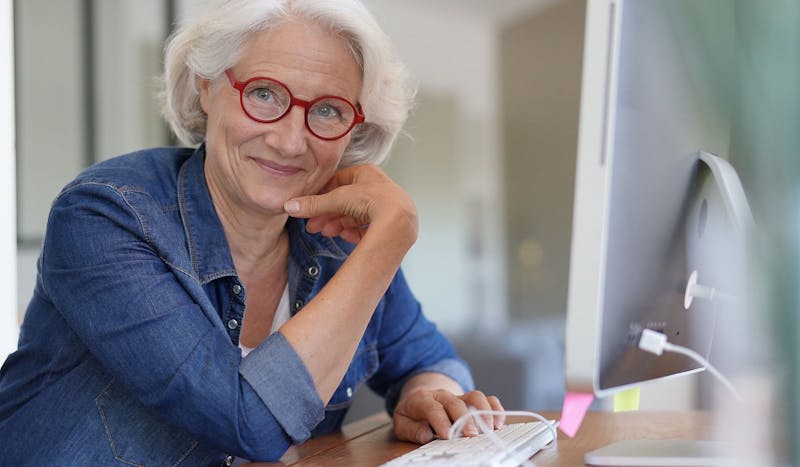 By SiteStaff Team on May 18, 2021 12:51:59 PM
Live chat has been gaining ground in industries worldwide, and senior living is no exception. But while live chat is an excellent tool for meeting, greeting and helping prospective new residents, does it really have an impact on senior living conversions? That depends on how well live chat is tailored to fit the needs of senior living visitors. Take a look at ways the right live chat service can help increase conversion rates for senior living communities.
Offer a human-to-human connection
Unlike live chat for B2B businesses, live chat for B2C businesses like senior living needs to make an emotional connection that simply cannot be accomplished with chat bots. According to Statista, almost 50% of online live chat users find chat bots provide too many unhelpful responses, while comm100.com's, "Live Chat Benchmark Report 2021" shows a live chat customer satisfaction rate of 85.6%, an all-time high.
Thus, when seniors and their families are looking for answers and help with their life-changing senior living questions and concerns, chat bots are not likely to be up to meeting the emotional challenges at hand.
To best serve these visitors and improve conversion rates, live chat for senior living requires empathetic and highly skilled human chat hosts who are prepared for a range of needs and can quickly offer a helping hand. By doing so, they begin building the kind of trust needed to bring clients along the buyer's journey to become leads and ultimately convert them to new residents. Our blog, "To Chatbot or Not: How it Compares to Live Chat in Senior Living," explains how important live chat hosts are to senior living communities.
Live chat initiates leads
There can be no conversions without leads, and even the best staffed senior living community has its limits. That's where live chat comes into play. Live chat with hosts who are industry trained, experienced and immersed in the culture of the community can be available 24/7, 365 to extend a welcoming and empathetic hand to visitors who need that help right then, not 12, 18 or 24 hours later.
Since there can be no conversions without leads, having nearly instantaneous live chat support in real time with real humans can be the source of leads senior living communities need. And because live chat can connect visitors with staff quickly during office hours, visitors feel respected and valued right from the start. Learn more about what live chat has to offer in our blog, "How to Generate Leads for Senior Living."
Live chat builds relationships
Choosing a senior living facility is often a process that includes a senior, their family members and even friends, so it requires a commitment to building relationships with not only the prospective resident, but with those who love them as well. Live chat provides the ability to help seniors and their "village" get all the information they need and build the trust and confidence necessary to move from visitor, to lead, to resident.
Another essential aspect of live chat is that it can be proactive, engaging visitors to reach out and find out all they need to know about a senior living community. This, again, sets the stage for the relationship building that is key to conversions. For more reasons live chat is the perfect solution for senior living communities, our blog, "The Top 6 Benefits of Live Chat for Senior Living," spells out the positive impacts you can expect.
Live chat as a disaster protocol
Senior living was one of the most negatively impacted industries during the pandemic, but has shown how resilient it is. Because COVID-19 fatigue will likely continue for a while, it's important to know just how much live chat proved itself to senior living communities during the darkest days of the pandemic, and what it can do going forward.
Our blog, "How Live Chat is Leading the Way in Business Recovery," looks into life at some of SiteStaff's senior living clients and exactly how live chat was able to not only keep them connected to potential residents, but actually increase chat volume during the COVID-19 crisis, and other disasters throughout 2020.
HIPAA compliance builds trust
Discussing the health care needs of a senior considering a move to senior living requires the live chat provider be 100% in compliance with the Health Insurance Portability and Accountability Act of 1996. No live chat is acceptable for a senior living community unless it is able to prove it is committed to the same level of HIPAA security as the community itself.
This shows live chat visitors the community's level of dedication to visitors' and residents' safety and security, and is one more way to prove trustworthiness over the long term. When choosing a live chat provider, it is essential to work with a company that is U.S.-based, and able to prove it is and will continue to be in compliance with every applicable aspect of the regulation. For more about the importance of HIPAA compliance, check out our blog, "Benefits of HIPAA-Compliant Live Chat for Senior Living Communities."
To learn more facts about how the right live chat can be a great tool for increasing senior living conversions, download our, "Ultimate Guide to Live Chat for Senior Living." To speak to a live chat specialist, feel free to contact us anytime.