By SiteStaff Team on Nov 6, 2016 7:25:17 AM
We wanted to publicize this stellar example of memory care from our amazing client, Azura Memory Care, on LinkedIn so badly, and we couldn't wait for it to reach their archives. This is directly from their newsletter, and we hope they don't mind us putting them on a pedestal. We are truly honored to serve them!
MOSAIC DREAM: LIFT OF A LIFETIME
If you ask enough people, you will find that most have a bucket or dream list that they hope to accomplish. Gertie, a resident of our Azura Memory Care home in Monroe, is no different, and at nearly 97 years young, her dream was to lift above the clouds in a helicopter!
Hearing this, Azura's MOSAIC Dreams squad came together to see what they could do to make Gertie's dream come true. Thanks to Neal Redington and Redington Farms, who very generously donated the use of their helicopter and pilot, Gertie's dream took flight.
The day dawned a bit cloudy, but even a little rain shower couldn't keep the smile from Gertie's face. She was picked up at her Azura home by the MOSAIC Dreams squad an ushered to the Monroe Airport, where a group of around 20 family and friends waited to cheer her on her way.
As the helicopter approached, the smile on Gertie's face grew and grew. In fact, if you looked closely it almost seemed like she was dancing. As she climbed into the 4-passenger helicopter and settled into her front-row seat, she gazed out at her children, grandchildren, great-grandchildren and even great-great-grandchildren, and waved to all.
When the bird lifted into the air, Gertie's dream was realized as she took flight over her beloved countryside, and saw homes, farms, cows, and places known to her life story. She sat in awe of all she saw marveling in the view, the height and her ability to finally be above the clouds. For 20 minutes, Gertie soared, and her dream came true!
While the helicopter began to descend, Gertie was amazed to see so many friendly faces and signs made with love by her Azura family too. They read "Welcome Back Gertie" and welcome they did with hugs, pictures, cookies, and sharing of magical moments. They knew that Gertie's lift of a lifetime had come true!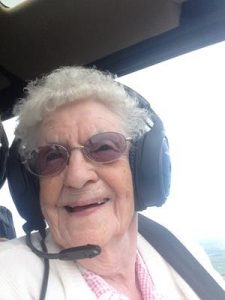 CUTTING EDGE MOSAIC THERAPIES
DNA testing may sound scary, but the truth of the matter is that many of our body's secrets are held in our genes. Unlocking them can help ensure the medical stability and high quality of life for those whose memory loss creates communication barriers.
At Azura Memory Care, one of the cutting edge MOSAIC Therapies that we have found to greatly benefit our residents is neuropsychiatric pharmacogenomics testing. This tool tests a person's genetic profile with FDA-approved medications to gauge their effectiveness on an individualized basis.
Provided by Assurex Health, their patented product GeneSight is the only neuropsychiatric pharmacogenomics technology that is supported by multiple clinical studies that had been published in the American Journal of Psychiatry, New England Journal of Medicine and Discovery Medicine.
Typically covered by Medicare, this specialized testing can be done at Azura with just two small cotton swabs being used to collect DNA from the inside of one's cheek. These swabs are then sent to the GeneSight lab for testing with results coming back in just a few days. Results are then tabulated into a report that is provided to Azura, the resident's physician, and the family. The results of the test are illustrated in three categories based on how the medication was metabolized for effectiveness and tolerability.
We use this information as a tool or guideline to help us personalize the medications and dosages used by that resident. Our goal is to ensure that from engagements to medications, every aspect of our care is geared to creating a MOSAIC that truly supports our residents to live their highest quality of life possible.